A Petefire Blacksmith Forging Experience could be a memorable and enjoyable way to spend some time with a family member or friend.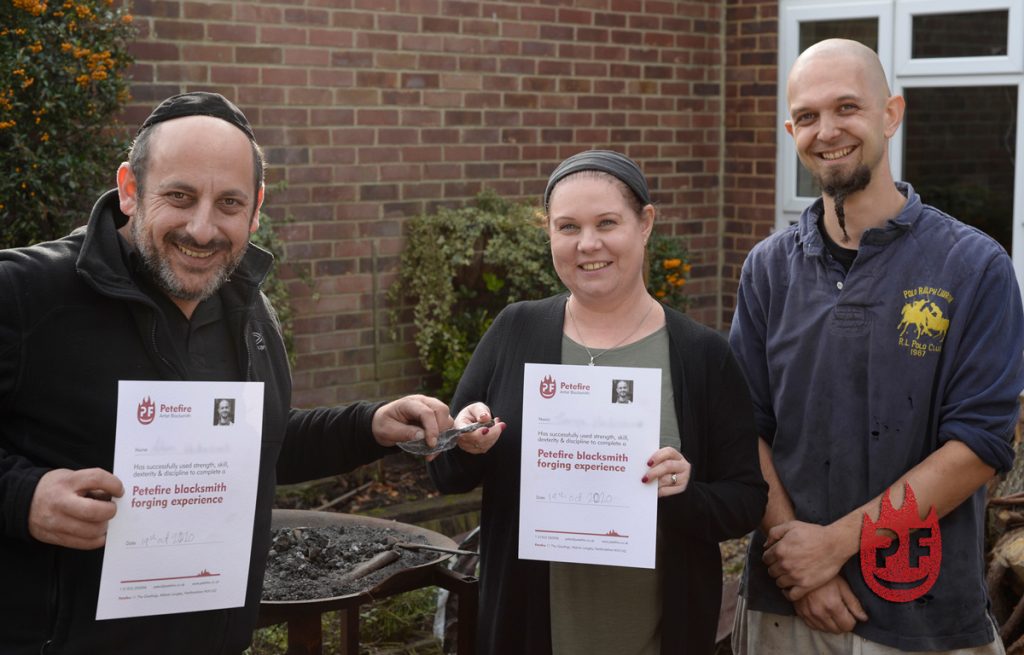 Testing your strength, skill, dexterity and discipline against some hot metal might show a whole new side to your wife, husband, sibling, mother, father, daughter, son or good friend.
Peter will discuss what you'd like to do on a Blacksmith Forging Experience – he'll be happy to put a bit more challenge into the day and will keep an eye on how participants are coping with all the aspects of the day.
Some alternatives to making a small knife might be a fire poker, decorative heart, flower, toasting fork, bottle opener or a bird feeder hook.
People take their forged items home with them.
All our Blacksmith Forging Experiences are now indoors at the Petefire Chiswell Green Forge – so we're not affected by the weather!
We've had all kinds of two, three or four person forging experiences, here are some of our people combinations:
mothers and school age sons
husbands and wives
dads and sons (youngest son was aged 7, we have lots of teens and adult sons)
dads and son-in-laws
daughters and dads
bridegrooms and best men
mum, dad, daughter & son
dads, sons & son-in-laws
Just some of the hammers available for use on a Petefire Blacksmith Forging Experience
School age sons and a mum
On a recent forging experience a mother came along with a 13 year old and 9 year old son. They were surprising fast and coordinated with sequential hammering, where two or more people hammer a piece of hot metal, standing in a circle around the anvil. It's a very efficient way of getting the most out of a 'heat'. Each second that the metal is out of the forge sees it cooling and becoming less able to be shaped.
A daughter booked a forging experience for herself and her dad. The daughter knew her dad would love it as he was a massive fan of Forged in Fire, the American tv series, he'd spent his working life as an engineer.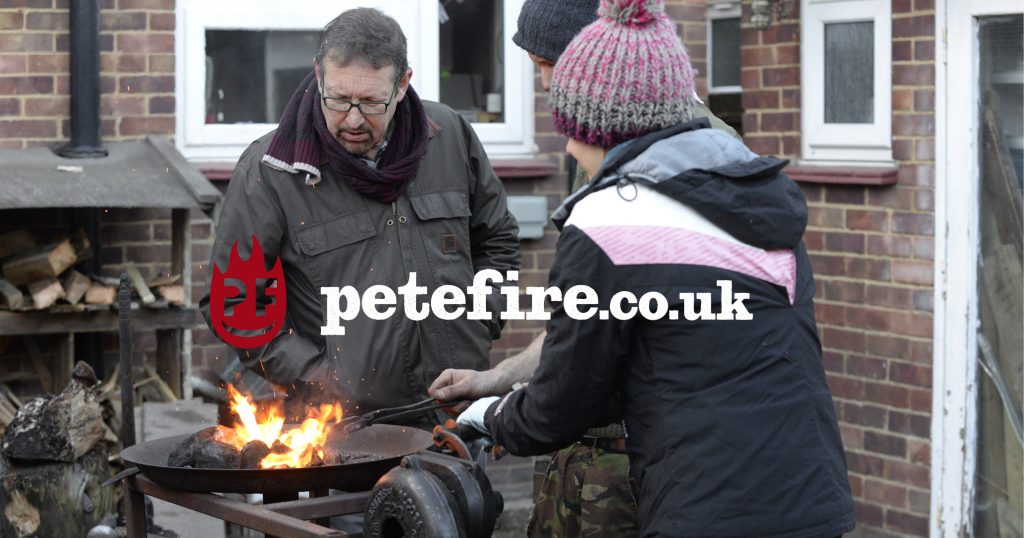 Book a Forging Experience just to watch, learn and talk.
Since an early age Peter has been absorbing all aspects of weapon making, sword, axe, bow and arrow history.
If discussing all aspects of metalworking while watching a knife (which you'd take home with you), being formed using heat, skill and strength sounds like a pretty good way to spend a few hours, book a voucher – or put in a gift request with your family to book a Petefire Blacksmith Forging Experience.
You can book to see the hot metal action and discuss metalworking.
Enjoyable – whatever age you are
An older couple booked a two day forging experience – with the intention of forging house numbers and a small knife. They spent a bit of the first day using the hammers, although the woman realised that swinging the hammers was hard for her to manage.
After discussion with Peter they chose to spend the rest of their forging experience watching the process and discussing and directing the development of the their house numbers and knife.
Although they only spent some of their time doing the physical activity, the couple still had a very enjoyable time and went away with much more knowledgeable about metalworking, its history and the blacksmithing process.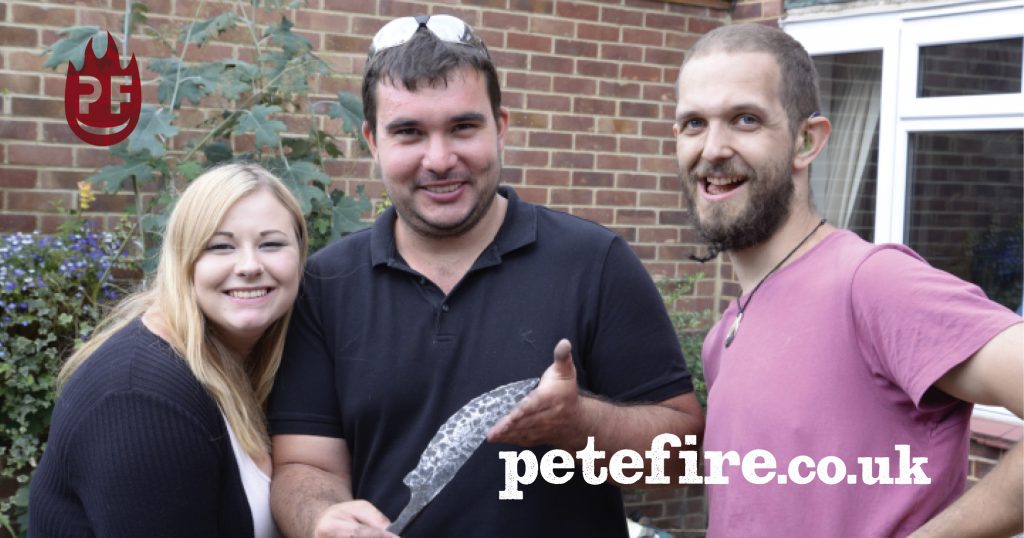 Dad and son forge something different
A woman phone with a specific request for a forging experience. They'd bought a wooden trellis for their garden, but had cut it in half at the top to make it wide enough to fit in with their plans for the garden layout.
Her question was – could she book a forging experience for her husband to metalwork two horizontal bars, strong enough to hold the two sides of their trellis in position.
Peter was very happy to tailor the forging experience to be able to make the trellis bar, and made sure that there was metal that would do the job beforehand.
The dad had been an engineer and really enjoyed being a hands-on part of a different and ancient kind of engineering for a day – they also finished in time to get back for the start of the football!
Buy a voucher for one or more than one – it'll be good either way
You can have a great one person forging experience, and all our people who come of their own have really enjoyed the day. People who come with one, two or more people also have an excellent time, as Peter will discuss all aspects of historic and modern blacksmithing and metalworking.
If you want to buy a voucher for more than one person, we're pretty certain that everyone will have a really good day, with some excellent comradeship and maybe a bit of competition too.