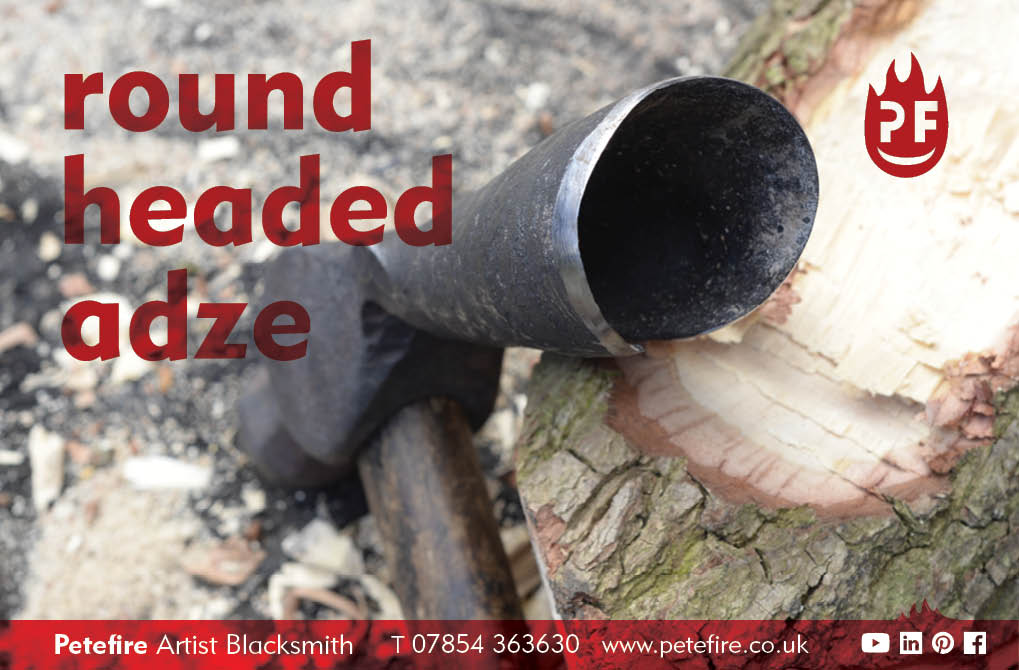 Petefire Artist Blacksmith – blacksmith forged round headed adze
Recently I was asked to make an adze for a man who wanted to do lots of bowl carving
He'd looked on the internet and tried to find different adzes, he found options but the were waiting lists and complications, then he looked a little bit more locally and he stumbled across our website and decided that he would contact me to see whether or not I'd be able to make him an adze.
I said we could meet up and I could see what I could do. So on that day, I'd already made a whole lot of axes and swords and other interesting items. It was fortunately very nice and sunny. I put all of these items outside just so he had stuff to look at and to go by. His main intention on that day was to come along and to get me to make him an adze. I'd previously given him a price, based on forging an old hammer into an adze shape – I had that to show him and I had a side axe that I'd forged from an old breaker bit from a pneumatic drill, so we had a couple of things to help create ideas. I showed him the adze that I'd made and I thought this is good, but he had his own ideas about how he wanted it so after chatting for a bit I said 'what about this then?' I got another old hammer with an amount of volume in it, 'with this amount of volume I should be able to make it'. He agreed, 'that sounds great. Fantastic, thank you.' So he went off and I went off to the forge and I forged his adze.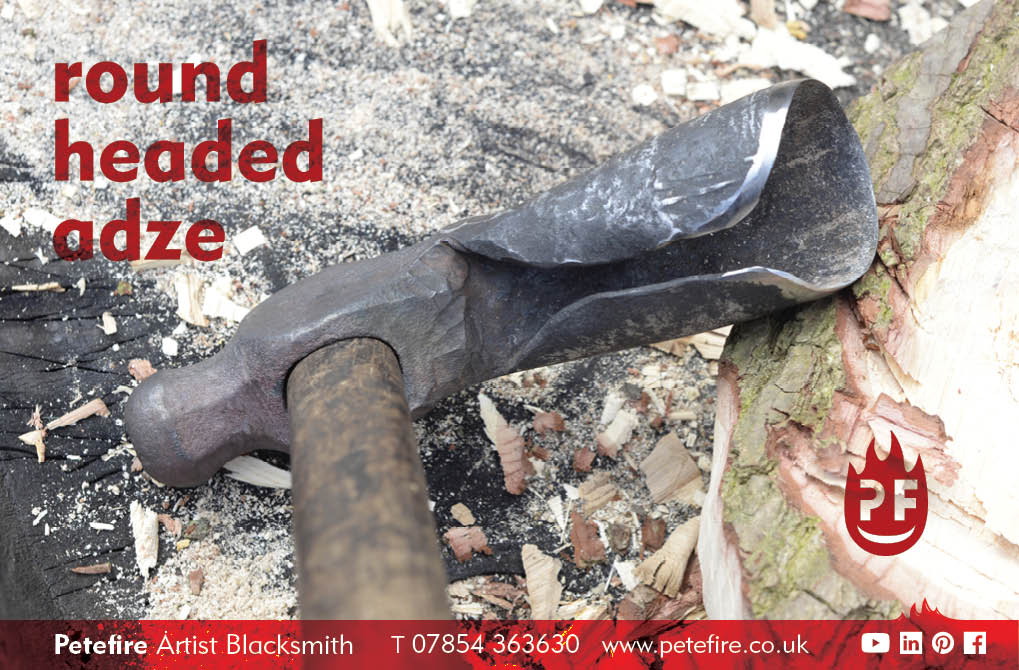 Petefire Artist Blacksmith – blacksmith forged round headed adze
Forging the round headed adze
I took a two and half pound ball-peen (also spelt pein) hammer and I forged out the face of it and splatted that out, I drew out as much of the material as possible and I curved that round, after I shaped it out, I then heated the whole thing up until it was nice and hot, put it in an ash bucket so it cooled down, I got the material to ember, I heated up just the cutting face and then quenched it off, then I turned it round and heated up from the body and allowed the temper colours to bleed through until the blade of it was yellow. I had the 9-inch angle grinder and lightly carved the edge on it. I did it so that on the top of the adze the edge was facing downwards – as opposed to facing up, which I thought would get a better kind of scoop when it's being used.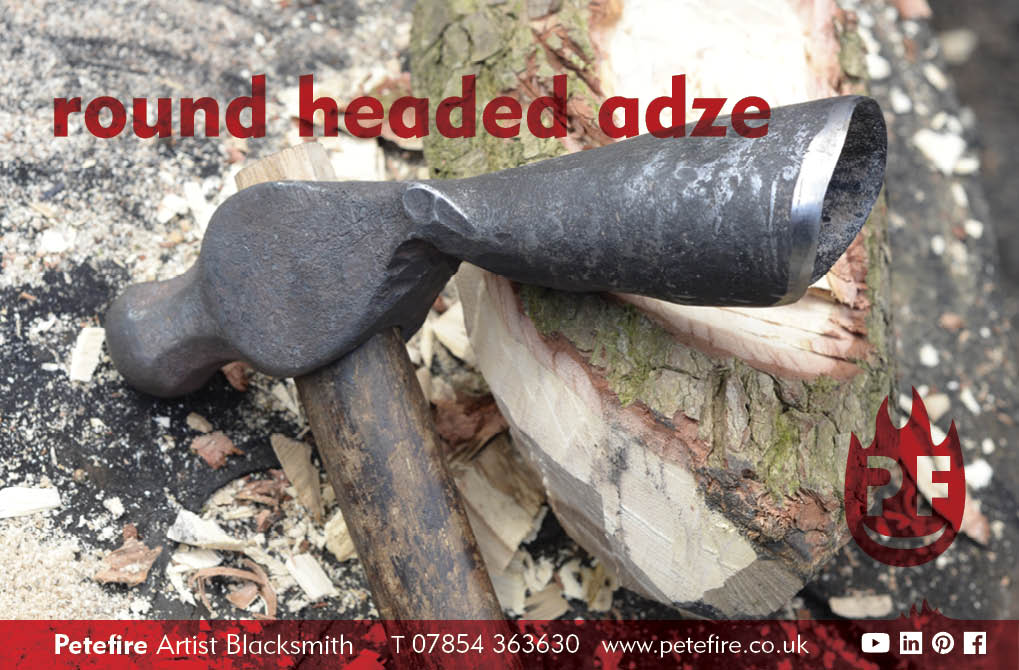 Petefire Artist Blacksmith – blacksmith forged round headed adze
'Exactly what I wanted'
I showed my client 'the adze man', as soon as he saw it he said, that is it, that's exactly what I wanted. I offered to grind up the edge a little bit more just to neaten it up a bit, he said 'no', as he had a diamond stone. He would take it now from here and he would make it his own. It's quite a nice little story – forging an adze from a hammer. I hope you like it.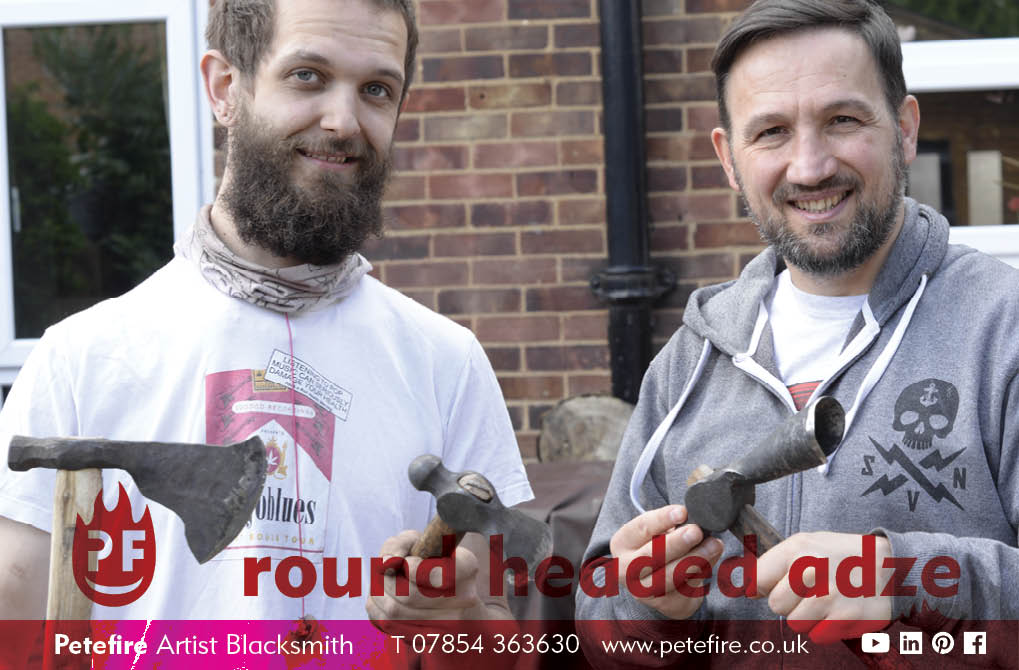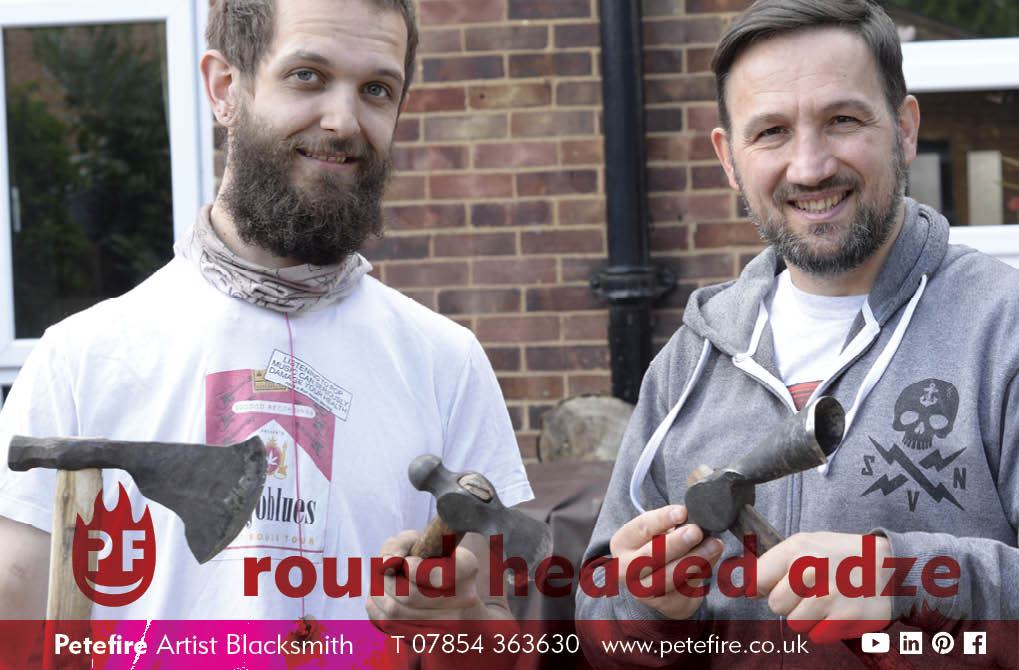 Peter and the 'adze man'
What defines an adze?
What is an adze? An adze is an axe, but whereas an axe is set on a straight line plain to the handle, an adze is set on a 90 degree angle so it can be used in a scooping motion so as to chip bits of wood out of the centre to make a bowl. I believe that's it anyway, you can correct me on that if you really wish, but I think that's more or less it
You can get lots of different kinds of adze for doing lots of different kinds of jobs, different cuts, but this was made as a bell, it was curved around completely and then the high point of the cutting edge was lipped so it went forward and the bell curved back in so it was sharpened and hardened so the whole thing could be used in a more free sort of way. You've got more facets in which to use as impact points. It might turn out that I made a bad decision on this but he was very happy with it.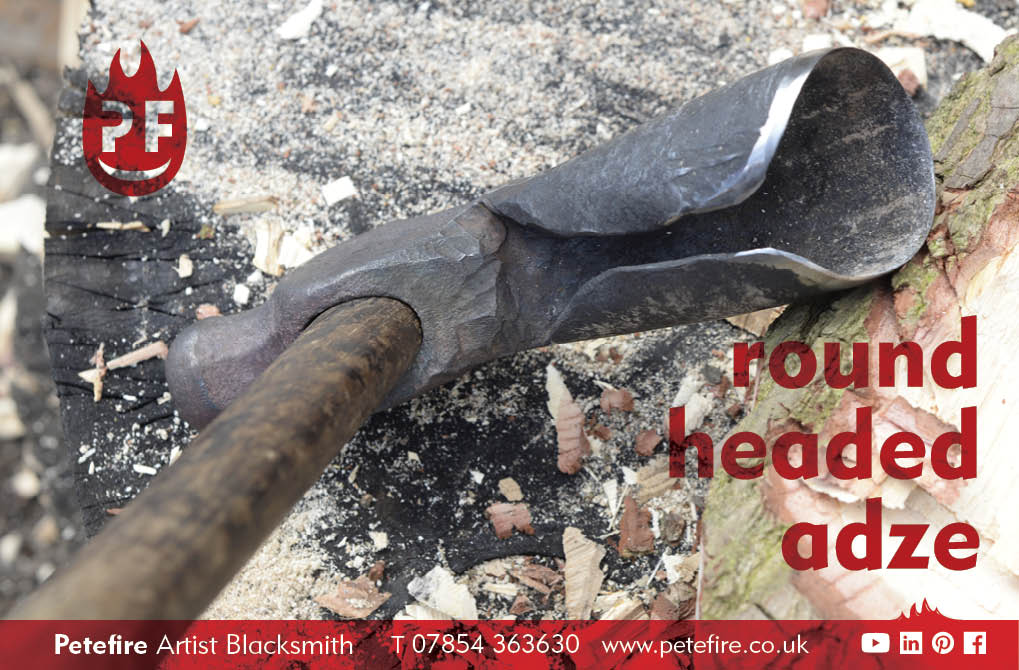 Petefire Artist Blacksmith – blacksmith forged round headed adze