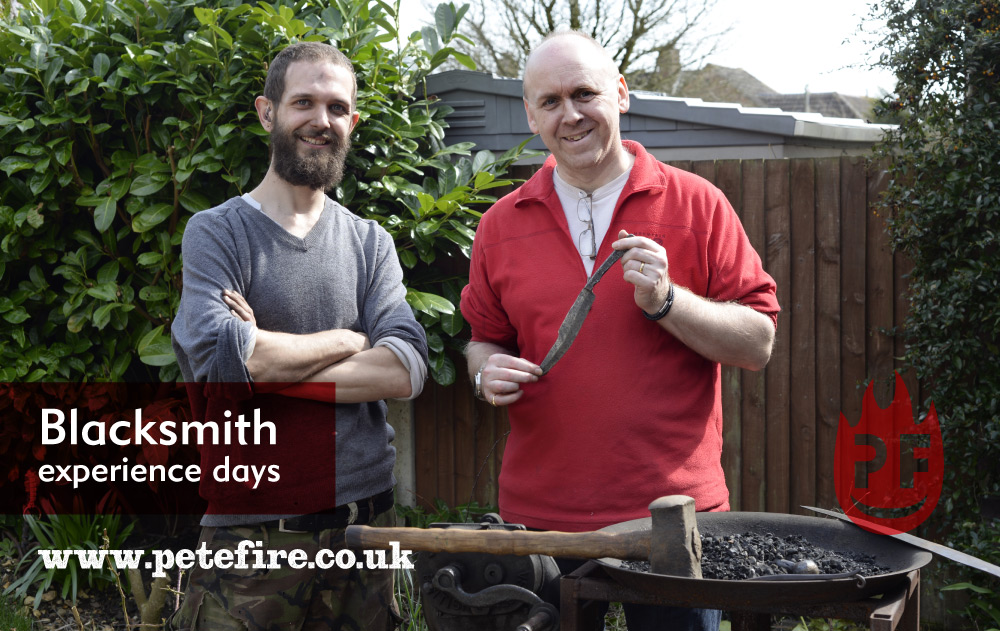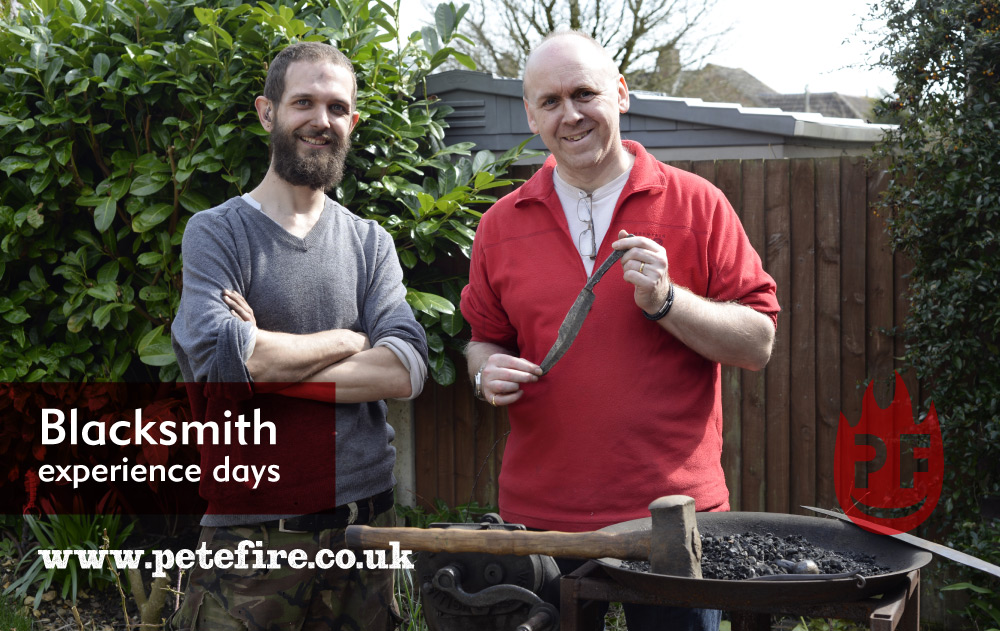 Today I did a forging experience day with a lovely bloke called Paul.
He hadn't actually decided on what he would be working on so I showed him the usual kind of cheese knife that we'd often make on a blacksmith forging experience day. I asked him how hands on he would like to be, his reply: 'well I'd really like to get involved as much as possible'. So I said, 'Why don't we have a look at some of these other pieces of steel that we have here and we could actually work on something a bit larger than we normally do.'
He was very good and he achieved a lot, keeping up with turning the handle (which is the bellows and inducts air / oxygen regulating the heat of the forge). He was also active with the hammer and showed good dexterity. We actually managed to make a knife about 3 times the size than the smaller knives that we normally make – and in the same amount of time. It was very impressive, we often have a discussion about what we're going to make on an experience day, this time we got straight into this so we didn't actually work on any other bit of steel other that one for this project.
Lining up for a second experience day
It was very successful so now he's been asking about what other type of projects we could do.
Projects around the house could include:
toilet roll holder

kitchen roll holder

fire poker

coat hook
I realise that not everyone will want to make a knife.
The knife making is very good as there's a lot of different processing in it:
you've got the heat treatment

the forging

the filing

and the actual bringing everything together
I use recycled steel for the knives, it would be easy to forge other items too.
A very positive day – all in all and hopefully I'll be seeing Paul again, where we'll work on the next stage of blacksmith forging experience day. So here's hoping and we'll see that when it comes.
Peter
All our Blacksmith Forging Experiences are now indoors at the Petefire Chiswell Green Forge – so we're not affected by the weather!
What would I make?
People have hand forged a small knife, alternatives might be a fire poker, decorative heart, flower, toasting fork, bottle opener or a bird feeder hook.
People take their forged items home with them.