You can book any date, weekdays or weekends
Want to book a date for your Blacksmith Forging Experience, for you or a family member?
You can do that.
…or you can buy a voucher for a birthday, and book your date later.
If you need to change the date of your booking, you can do that too.
Did you know that there's not a use by date for your voucher?
We realise that many people have busy lives, and it takes a bit of planning to get a day that works for the family, or around people's shift work. That's why we don't have use by dates.
If you've got questions you'll find more information on our Blacksmith Forging Experiences questions page,
Here's our contact us page, the office number is 01923 350596, or you can message or phone 0777 999 1551.

Looking for a forging experience in England?
We're in St Albans, Herts and have had people booking our forging days from as far away as Kent and Barnsley in Yorkshire.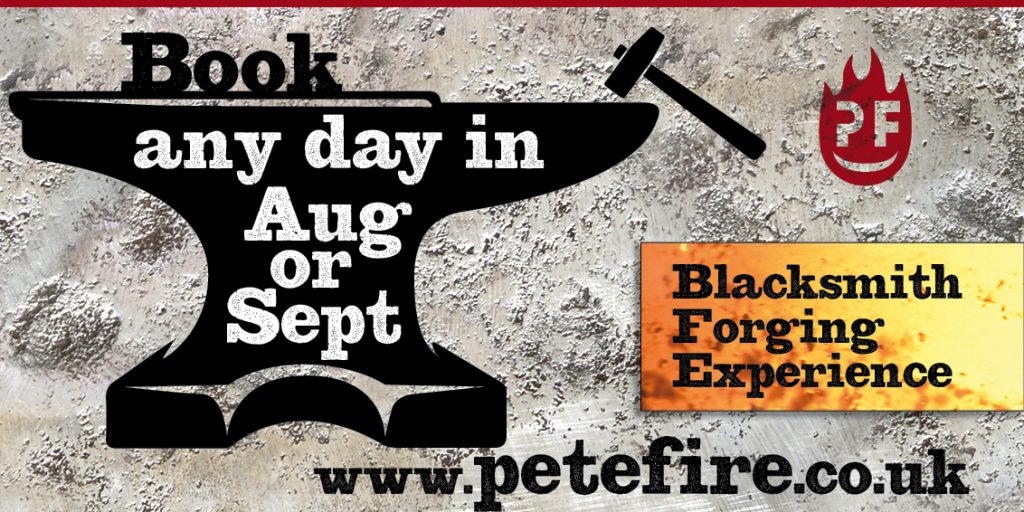 Not sure what date to choose?
You can also buy a voucher here, if you want to arrange Forging Experience date later.
Buying a Forging Experience for 2 people, click here.
You can also buy a forging experience voucher for more than 2 people too – please contact 01923 350596 or peter@petefire.co.uk.